Civil Engineering Software – In Civil Engineering, there is a wide range of software available. The amount of software available to support Civil Engineering and design needs is rapidly increasing as a result of technological advancements.
Here is a list of software used in civil engineering on our Website – "ProCivilEngineer.com", that many civil engineers use all over the world. Also included are the best civil engineering software courses that every civil engineer should take.
What Is Civil Engineering Software?
Civil engineering software is a collection of tools that aid civil engineers in the design and construction of structures. This software can assist with drafting and documenting, designing, visualising, and analysing at every stage of the project.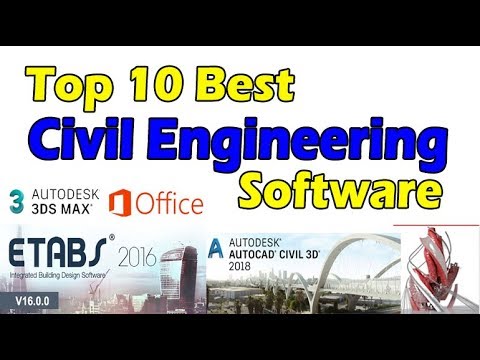 Civil Engineering Software List
Civil engineers ensure that construction, operation, and maintenance are all done in a safe manner. The following is a list (civil engineering software list) of software that many civil engineers use all over the world. Save time and money by capturing survey data in hours rather than days, and gain better insights at every stage of your surveying and site development work, Structural engineering, Transportation engineering, and Civil construction Software.
You may not need to learn how to use the software in the construction industry if you are a construction engineer. You will use industry-leading software as a civil engineering CAD technician. From 2D and 3D drawing, you'll need these skills to succeed in this field.
Here is a list of civil engineering software that includes software courses for civil engineering students as well as civil engineering software downloads. The majority of this software is free civil engineering software that can be downloaded from the respective websites.
For students and professionals in the civil and construction industries, these are the most relevant and important civil engineering software courses. This is a list of the most commonly used civil engineering software, which also includes a list of transportation engineering software.
The Best Civil Engineering Software and Construction Management Software for Civil Engineers, Architects, and Design Professionals is listed below.
Civil Engineering Management Software List
These are just a few examples of civil engineering management software available in the market. The choice of software depends on the specific requirements of the project and the preferences of the engineering team.
MS Project
Primavera
Project Kick Start
Smarta
Civil Engineering Analysis/Design Software List
Ansys
ETABS
GT Strudl
GTS
MicroStation
NISA
STRAP
Sap 2000
Staad Pro
Struds
Xsteel
Civil Engineering Modelling Software List
ArchiCAD – ArchiCAD is a professional BIM (Building Information Modeling) software used for architectural design and documentation.
Autodesk Revit – Autodesk Revit is a BIM (Building Information Modeling) software used for 3D architectural design, documentation, and collaboration.
3D Max – 3ds Max (formerly known as 3D Studio Max) is a professional 3D modeling, animation, and rendering software widely used in the entertainment and design industries.
PDMS – PDMS (Plant Design Management System) is a 3D CAD software used in the oil and gas industry for designing, modeling, and managing complex piping and plant facilities.
PDS (Plant Design System): PDS is a 3D plant design software used in the engineering and construction industry for creating and managing complex industrial plant layouts and piping systems.
Photoshop: Photoshop is a professional image editing software developed by Adobe, widely used for manipulating and enhancing digital images and graphics.
SP3D (SmartPlant 3D): SP3D is a 3D modeling software used in the engineering, procurement, and construction (EPC) industry for designing and visualizing complex plant and offshore structures.
Tekla Structures: Tekla Structures is a BIM (Building Information Modeling) software specifically designed for structural engineering and construction, used for creating detailed 3D models of buildings and infrastructure projects.
Civil Engineering Water Tanks Software List
ESR GSR
Civil Engineering Quantity & Estimation Software List
QE PRO – Quantity Estimation Project Planning Software (QE PRO software) in civil engineering is a software tool used for estimating project quantities and planning construction projects.
Civil Engineering Geotechnical Software List
Plaxis – Plaxis is a finite element analysis software widely used in civil engineering for geotechnical analysis and soil-structure interaction simulations.
Geo
Civil Engineering GPS/GIS Software List
Arc View
GeoMatics – Geomatics software is computer software designed for processing, analyzing, and managing geospatial data in various applications, such as surveying, mapping, and geographic information systems (GIS).
Civil Engineering Sewer Modelling Software List
Kanal ++
Civil Engineering Water Distribution Network Software List
Aqua ++
Civil Engineering Highways Software List
AutoPlotter
HDM
Heads
MXRoads
Civil Engineering Green Buildings Software List
Dialux
Ecotect
Energy +
IES
Visual Doe
Civil Engineering Drafting Software List
Maya
Rhino
Vector Works
Civil Engineering PSC Girder Design Software List
ADAPT-ABI
MIDAS
Civil Engineering Offshore Platform Design Software List
SACS
Civil Engineering Foundation Design Software List
SAFE
STAAD Foundation
Civil Engineering Software For Drafting Or Drawing
AUTO CAD
AutoCAD is a commercially available computer-aided design and drafting programme. AutoCAD was first released in December 1982 as a desktop application for microcomputers with internal graphics controllers, developed and marketed by Autodesk.
It is critical to have a solid understanding of AutoCAD. The good news is that it is simple. Short Autocad tricks should also be learned in order to work quickly.
SketchUp (Google SketchUp)
SketchUp (formerly Google Sketchup) is a 3D modelling computer programme used in architectural, interior design, landscape architecture, civil and mechanical engineering, film, and video game design. Check out this page for more information on the SketchUp online training SketchUp to LayOut.
Civil Engineering Software For 3D Modeling Of Structure/Architecture
Autodesk 3ds Max
Autodesk 3ds Max is a professional 3D computer graphics programme for creating 3D animations, models, games, and images. It was previously known as 3D Studio and 3D Studio Max. Autodesk Media and Entertainment developed and produced it.
Autocad Civil 3d
Building information modelling (BIM) workflows are supported by AutoCAD Civil 3D software, which is a design and documentation solution for civil engineering. One of the best software courses for civil engineers.
Autodesk Maya
Autodesk Maya, or simply Maya, is a 3D computer graphics application that runs on Windows, Mac OS X, and Linux. It was created by Alias Systems Corporation and is now owned and developed by Autodesk, Inc.
Software for Project Planning and Project Management/ Construction Planning/Project Planning
MS Excel
Microsoft Excel is a spreadsheet application for Windows, macOS, Android, and iOS that was created by Microsoft. It includes calculation, graphing tools, pivot tables, and Visual Basic for Applications, a macro programming language.
Almost everything is done with it. You can use this regardless of which profile you choose. You name it: execution, surveying, planning, contracts, budgeting, designing, quality control, and quantity estimation.
MS Excel is used by everyone. It is used for all kinds of calculations. Excel makes it easier to interpret data and modify it as needed.
Microsoft Project (MS Project)
Microsoft Project is a project management software programme that Microsoft developed and selling. It's made to help project managers create plans, assign resources to tasks, track progress, manage budgets, and analyse workloads.
Primavera P6
Primavera is a project portfolio management software for businesses. It has project management, collaboration, and control features, as well as the ability to integrate with other enterprise software like Oracle and SAP's ERP systems. One of the best software courses for civil engineers.
Civil Engineering Software for Structural Analysis and Design
STAAD Pro
STAAD, also known as STAAD Pro, is a structural analysis and design software programme created by Research Engineers International in 1997. Bentley Systems purchased Research Engineers International in late 2005.
Revit Structure
Revit Structure is Autodesk's BIM software solution for structural engineering firms and structural engineers. It offers a feature-rich toolset for driving efficient design processes in a BIM (Building Information Modelling) environment, as well as when working with other construction disciplines using Autodesk CAD software such as Autodesk® Revit® Architecture and Autodesk® Revit® MEP.
Civil Engineering Software for Geo-Technical work
ArcGIS is a geographic information system (GIS) that allows you to work with maps and geographic data. It can be used to make and use maps, compile geographic data, analyse mapped information, share and discover geographic information, use maps and geographic data in a variety of applications, and manage geographic data in a database.
QGIS is a cross-platform desktop geographic information system application that supports viewing, editing, and analysing geospatial data. It is free and open-source.
GeoStudio 2018 R2 is a software suite that allows you to model slope stability, ground deformation, and heat and mass transfer in soil and rock.
PLAXIS is a geotechnical engineering programme designed specifically for the analysis of deformation, stability, and flow. The enhanced output facilities can now provide a detailed presentation of computational results thanks to the input procedures.
Civil Engineering Software For Road Designing & Analysis
The Civil Design Software for Road Networks is Bently Road Network. Software for Creating Road Networks in Civil Engineering Bentley has been providing design and analysis products to civil engineering professionals and highway agencies all over the world for more than three decades.
MX Road is an excellent string-based modelling tool for designing all types of roads quickly and accurately. Civil engineers, designers, surveyors, and system designers can use a single engineering application to access 3D modelling, construction driven engineering, and other analysis.
Civil Engineering Software for Building Information Modeling (BIM)
Autodesk Revit
Autodesk Revit is a building information modelling software developed by Autodesk for architects, landscape architects, structural engineers, MEP engineers, designers, and contractors.
Tekla BIMsight
Tekla BIMsight is a professional collaboration tool for construction projects. Using the same simple BIM environment, the entire construction workflow can combine their models, check for conflicts, and share information.
Autodesk BIM 360
Autodesk® BIM 360TM Build is a cloud-based field management service for construction professionals that combines a mobile app with collaboration and reporting at the point of construction. BIM 360 Design brings together project teams from all over the world, allowing them to collaborate on shared Revit models.
Navisworks
Navisworks (formerly JetStream) is a Microsoft Windows-based 3D design review programme. Primarily used in the construction industry to supplement 3D design software (such as Autodesk Revit, AutoCAD, and MicroStation).
Users can use Navisworks to open and combine 3D models, navigate around them in real time, and review the model with tools like comments, redlining, viewpoint, and measurements.
Civil Engineering Software for Fluid Mechanics
GAMBIT
Ansys FLUENT
Ansys CFX
FlowMaster
HEC-RAS
EPANET